Ani-Jam is Proud to Announce Raj Ramayya as a Guest of Honor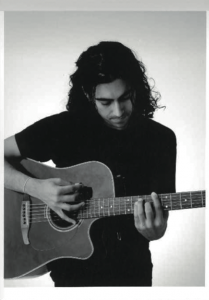 April 3, 2014
Fresno, CA - April 3, 2014 - Ani-Jam, the Central Valley's premiere anime convention is proud to announce singer, composer and lyricist Raj Ramayya as a Guest of Honor at Ani-Jam 2014 this summer.  The two-day event will be held on August 16-17, 2014 at the Valdez Hall (Part of the Fresno Convention Center).
Raj Ramayya is an Indo-Canadian singer, composer and lyricist based in Marin County, California. His claim to anime fame would be his musical collaborations with famed Japanese composer Yoko Kanno as a member of The Seatbelts. Raj sang the opening credits song "Ask DNA" and wrote the lyrics for "Cosmic Dare (Pretty with a Pistol)" from the fan favourite feature film Cowboy Bebop: the Movie, and both sang and wrote the lyrics for "Strangers" from the anime series Wolf's Rain. Not limited to music in anime, he has also worked on songs for video games from the likes of Konami, Sega, and Capcom.
Raj has been featured as a guest vocalist/composer with several distinguished artists, ranging from talented composers Yoko Kanno (Escaflowne, Cowboy Bebop, Wolf's Rain) and Tatsuya Oe (Captain Funk, Hotei), to gifted lyricists Chris Mosdell (Eric Clapton, YMO) and Ron Sexsmith, and everyone in-between. His work has won him multiple awards and critical acclaim from around the world.
Among his other projects are the electronic Indian fusion music project "Bhang Lassi", the alternative Indian-influenced folk rock band "The Beautiful Losers", and session singing for products ranging from Asahi Beer and KFC, to Toyota and Coca-Cola. He is also a guest vocalist with three different Japanese electronic music groups; Captain Funk, Akakage, and Studio Apartment, with SA's song "Strawberry Rainbow" (which Raj both sung and wrote lyrics for) hitting #1 on the iTunes Japan charts!
Raj is excited to be coming to Ani-Jam for the first time and can't wait to meet everyone!
For more information, you can visit him online at:
http://www.rajramayya.com
http://www.reverbnation.com/rajramayya
http://www.thebeautifullosers.net
About Ani-Jam Ani-Jam is a two-day convention held annually that celebrates Japanese animation and East Asian pop culture. The two-day convention brings in over a thousand people from the valley and throughout the state to participate in cosplay and costuming events, panels featuring our special guests of honor, concerts, screenings, game tournaments and more. In 2013, Ani-Jam celebrated its 10 year anniversary. Ani-Jam is a local business owned by businessman Antonio Airoso and is an event that is directed by an all volunteer, unpaid staff.
For more information about Ani-Jam, please visit http://ani-jam.com.