Ani-Jam is Proud to Announce Nerd Awesome Therapy as Guests of Honor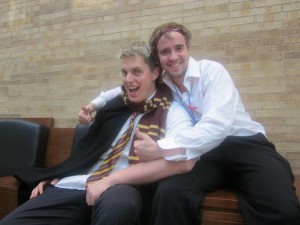 Wednesday, July 23, 2014
Fresno, California – Ani-Jam, the Central Valley's premiere anime convention, is proud to announce Nerd Awesome Therapy, formerly Anime/Convention Therapy, as Guests of Honor for Ani-Jam 2014. The two-day event will be held on August 16-17, 2014 at the Valdez Hall (Part of the Fresno Convention Center).
Spenser and Cedric have been holding panels on various psychology topics which affect the Otaku community for over four years. Their first panel, entitled "Creepers: How to Avoid them and not Become one Yourself", was held at "Another Anime Convention" in New Hampshire. Since then, they have expanded the number of conventions they attend as well as the panels they hold to include such topics as: "Post-Con Depression: Coping skills and techniques", "Social Anxiety: Conventions and Beyond" and, in addition to their psychology panels, have also hosted a few fan panels at conventions such as Conneticon, Anime-Boston, Con-Bust, I-Con, and a few others.
Cedric has been a judge for cosplay competitions at Conneticon and Ani-Jam. He worked as staff for Conneticon in the Cosplay department this past year and helped with their Masquerade and Dating Game. Spenser has also had a hand in various Cosplay events at Connticon.
For more information, visit Nerd Awesome Therapy on Facebook: https://www.facebook.com/Nerdth.
Their website is scheduled to launch on August 1st, 2014 and will be available at: http://www.nerdth.com.
They are also planning on having tumblr, twitter, and other various social media outlet pages available soon.