Ani-Jam is Proud to Announce Jessica Calvello as a Guest of Honor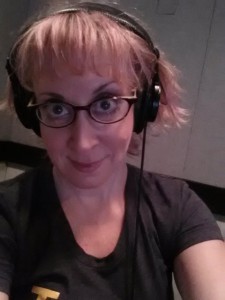 Thursday, May 15, 2014
Fresno, CA – May 15, 2014 – Ani-Jam, the Central Valley's premiere anime convention is proud to announce voice actor Jessica Calvello as a Guest of Honor at Ani-Jam 2014 this summer. The two-day event will be held on August 16-17, 2014 at the Valdez Hall (Part of the Fresno Convention Center).
Jessica started dubbing in 1995 with ADVfilms, with her first project being 3 HUGE LINES in Evangelion. Some more of her earlier work includes Excel Excel (Excel Saga, V1-3), Fam (Ruin Explorers, Mink (Dragonhalf), Celcia (Those Who Hunt Elves, S1), Yuri (Dirty Pair, OAV 1-5), Karin Aoi (DNA²), Drona (Magical DoReMi), Tsukino (Kare Kano), Comic Party (Eimi), Nanael (Queensblade), Kay the Raichu Trainer (Pokemon), Donna (Virus Buster Serge), Meliroon (Slayers: the Motion Picture), Moto and Poom Poom (Boogie Pop Phantom), and The Lovely Warrior, Honey Kisaragi (New Cutey Honey), in which she was personally cast by Go Nagai for the English dub.
More recent roles include Hange Zoe (Attack on Titan), Kanako (Maria Holic), Saori (Girls und Panzer), Eclair (Fairy Tail the Movie: Phoenix Priestess), Ekitoku Chouhi (Ikki Tousen), and Rip Van Winkle in Team Four Star's Hellsing Ultimate Abridged, Ep. 4.
Jessica is also currently working with the talented team over at Cyanide & Happiness! They probably regret this, but in the meantime, go to their youtube channel to hear her in the upcoming shorts: The Weatherman, Butterfly, God and Satan and Teddy Bear Strip Club (to name a few!)
She's worked for FUNimation, ADVfilms, Sentai Filmworks, New Generation Pictures, 4Kids Entertainment, DuArt, Headline Studios, Central Park Media, The Right Stuf, International, Media Blasters and more!
Jessica loves attention, so please do your part to keep that part of her healthy and feel free to:
Circle her on Google+ https://plus.google.com/u/0/101183394939644817603
Tweet her on Twitter https://twitter.com/JessicaCalvello
Find her on Facebook https://www.facebook.com/pages/Jessica-Calvello/320099344688767
Check out her YouTube channel: http://www.youtube.com/user/JessicaCalvello
… and love her in all of her glorious damage. WHERE ARE MY MEDS?!