Ani-Jam is Proud to Announce Jād Saxton as a Guest of Honor!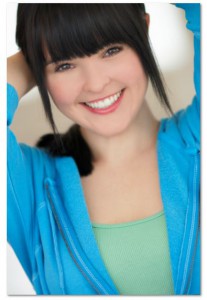 April 19, 2014
Fresno, CA – April 19, 2014 – Ani-Jam, the Central Valley's premiere anime convention is proud to announce voice actress Jād Saxton as a Guest of Honor at Ani-Jam 2014 this summer. The two-day event will be held on August 16-17, 2014 at the Valdez Hall (Part of the Fresno Convention Center).
Jād Saxton has been acting and singing for the anime industry for 7 years and has voiced over 70 titles for Funimation Entertainment. She landed her first major role as Masako Hara in "Ghost Hunt," and then went on to voice Eve Genoard in "Baccano!," Perrine-H. Clostermann in seasons 1 and 2 of "Strike Witches," and Jacqueline O. Lantern Dupré in "Soul Eater."
Most recently announced releases include: "Fairy Tail" as Carla, "Haganai" as Sena Kashiwazaki, "Michiko & Hatchin" as Hatchin, "Eureka Seven AO" as Elena Peoples, "High School DxD" as Koneko Tōjō, "Last Exile: Fam, The Silver Wing" as Fam Fan Fan, "Toriko" as Yun, "A Certain Scientific Railgun" as Komoe, "Tenchi Muyo! War On Geminar" as Lashara Earth, "Steins;Gate" as Faris Nyannyan, "Mass Effect: Paragon Lost (movie)" as April, "Is This a Zombie?" as Haruna, "Shangri-La" as Karin Ishida/Pudding, "A Certain Magical Index" as Komoe, "Aria The Scarlet Amo" as Reki, "B Gata H Kei – Yamada's First Time" as Mayu Miyano, and "Freezing" as Arnett McMillan. For a full list of her work please visit www.animenewsnetwork.com.
When Jād isn't lending her voice to anime, she can be seen on stage at various theaters throughout the Dallas/Fort Worth region as well as touring all over the U.S.
To keep up with Jād, please visit "Jad Saxton Voice Actress" on Facebook, www.facebook.com/jadsaxton
Or follow her on Twitter. www.twitter.com/jadbsaxton