Ani-Jam is Proud to Announce David Vincent as a Guest of Honor!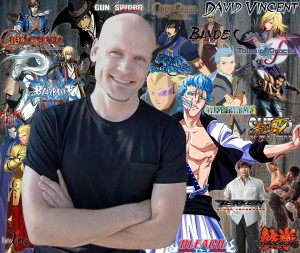 April 19, 2014
Fresno, CA – April 19, 2014 – Ani-Jam, the Central Valley's premiere anime convention is proud to announce voice actor David Vincent as a Guest of Honor at Ani-Jam 2014 this summer.  The two-day event will be held on August 16-17, 2014 at the Valdez Hall (Part of the Fresno Convention Center).
David Vincent is a professional Voice Actor / Television Producer based in Los Angeles, California. He has lent his voice to a variety  of Animation / Anime and Video Game titles, as well as numerous National Commercials for Television and Radio.
David was nominated "Best Voice Actor in an Anime" by the American Anime Awards for his work in GUN x SWORD.
Some of his best known Animation credits include:
GRIMMJOW JEAGERJAQUES & Kouga Kuchiki in the hit series BLEACH
CODE GEASS as Li Xingke
ARCHER / GILGAMESH in FATE / ZERO
Assassin in FATE / STAY NIGHT
Van in GUN X SWORD
Seiji in DURARARA!!
Arthur August Angel in BLUE EXORCIST
Daisuke Nagase in Persona 4
Kekkaishi as Sakon
Chester Barklight in Tales of Phantasia
General Logi in Blue Dragon
Giichi in Blade of The Immortal.
Some of his more recent Video Game credits include:
JIN KISARAGI & Hakumen in the hit series BLAZBLUE
Richard in TALES of GRACES F
Raymond Vester in RESIDENT EVIL: REVELATIONS
Marshall Law & Forest Law in the hit video game franchise TEKKEN
Shin Kamiya in TEKKEN: Blood Vengance
Eliot in DEAD OR ALIVE 5
Final Fantasy: The Crystal Bearers as Keiss
SUPER STREET FIGHTER IV as T-Hawk
MEDAL Of HONOR as Morgan
The Last Remnant as Blocter
Infinite Undiscovery as Edward
Castlevania: Dracula X Chronicles as Richter.
Other titles include HALO 4, Soul Calibur V, Fire Emblem: Awakening, Spec Ops: The line, Alpha Protocol, and has many more new titles to be released this year.
In addition to voice acting David has also appeared in front of the camera in Guest and Co-starring roles on Prime Time Television shows NCIS, Criminal Minds and The Mentalist among others.
Please feel free to say hello to David and friend him on his Facebook at http://www.facebook.com/davidvincentva
or join his fan club at https://www.facebook.com/groups/DavidVincentsWindorPanthers/