Ani-Jam is Proud to Announce Chii Sakurabi as a Guest of Honor.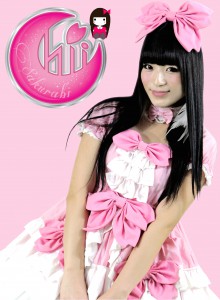 April 16, 2014
Fresno, CA – April 16, 2014 – Ani-Jam, the Central Valley's premiere anime convention is proud to announce Chii Sakurabi as a Guest of Honor at Ani-Jam 2014 this summer.  The two-day event will be held on August 16-17, 2014 at the Valdez Hall (Part of the Fresno Convention Center).
Chii Sakurabi is an international J-POP singer and recording artist from Tokyo, Japan. Chii originally performed live throughout Tokyo, and in 2010 moved to the U.S. to expand her music internationally. In 2011, Chii released her first full-length album Mirage, featuring a unique electropop style, as well as a mixture of English and Japanese lyrics. In 2013, she released a new single and music video for Kaguya, and in May 2014 she will be releasing her next full-length album, Moon Princess!
Chii has performed live at various anime and pop culture conventions in such countries as the United States, France, Mexico, Canada, New Zealand and Japan. Chii's concerts are known for their high-energy as well as Chii's passsionate voice, kawaii dances, and lolita fashion! Chii is excited to perform in Fresno for the first time! Experience Chii's music through a visual story as she takes you to her fantasy world!
Visit Chii online at: www.chiisakurabi.com
Facebook: www.facebook.com/ChiiSakurabi